CSS galleries have become extremely popular, and for good reason. They are a great source to draw inspiration for new designs. Bu tthey can be even more useful when they have a specific niche or focus.
Galleries that focus on a specific area of design can help us when we need ideas fast and know what we are looking for. If we are interested in Typography ideas for example, there is a gallery just for beautiful typography, or maybe we are interested in minimal design, well there is a gallery for that as well.
So here are my top picks for great niche CSS and design galleries:
The InspirationFuse Network
InspirationFuse is a whole network of design and CSS Galleries that all focus on a particular niche. The sites are all updated every day, making them some of the best niche galleries out there.
TypeInspire
Showcasing beautiful typography and text effects. Loaded with amazing typography examples.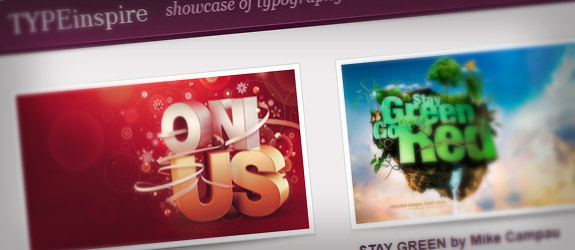 FolioFocus
FolioFocus showcases the best web design, graphic design, photography, web developer and other design related portfolio websites.
WordPress Theme Love
A new gallery that just sprung up form the folks at InspirationFuse network. Looks like it has some great potential for showcasing premium WordPress themes. I'm looking forward to seeing the site mature. One of the best features is the "Love" button and the ability to see most loved themes.
Blog Design Heroes
Showcasing the best blog designs using a variety of CMS such as WordPress, Joomla, ExpressionEngine, or just custom coded HTML.
CartFrenzy
CartFrenzy is all about ecommerce designs and shopping cart websites. It ha a lot of the famous retailers and also a lot of web stores you may not know, all with great designs.